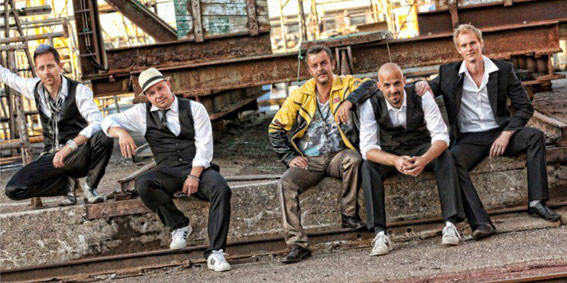 KOPIBANDS: 
Her er et lille udsnit af de mange kopibands som kan bookes til netop Jeres arrangement:
ØSTRE GASVÆRK (Gasolin)
CBACHJAM (Rasmus Seebach)
STING JAM
TURN ON TINA (Tina Turner jam)
QUEEN MACHINE (Queen Jam)
BEST OF BOWIE
TOM JONES EXPERIENCE
BIG FAT SNAKE-JAM
TV2-RIGTIGE MÆND
DIE HERREN U2 PLAGIAT
ELVIS – feat. Mike Andersen
KILLER QUEEN (Queen)
THE PINK FLOYD PROJECT
THOMAS HELMIG JAM
SGT. PEPPER ( Beatles)
ABBA REVIVAL
ELVIS JAM
GEORGE MICHAEL JAM
KIM LARSEN SHOW "Refrainet er frit"
WILLY & THE POORBOYS –Creedence Jam
BRYAN ADAMS JAM
ELVIS ON MY MIND
DOORS JAM
KRAVITZ JAM
KARL HERMAN´s TRIO (J. Mogensen)
THOMAS HELMIG PLAGIAT
TAMBOO (Toto Jam)
QUEEN JAM
JOE COCKER JAM
DAVID BOWIE EXPERIENCE
MTV-JAM (Musik hits fra MTV)
LORD OF THE ATLAS (D.A.D Jam)
SPRINGSTEEN JAM
ROBBIE WILLIAMS JAM
ROLLIN S.T.O.N.E.S.
CHICAGO x-press
WALTER TROUT JAM
GASBIDUA (Mix Gasolin/ShuBiDua)
BACK 4 GOOD (Boy Bands Jam)
THE PRINCE TRIBUTE
ELEVATION U2 JAM
SUI-SUI (Sneakears/Salomonsen)
CREEDENCE ALLSTARS
ANASTACIA JAM BAND
BEAT THE MEETLES (Beatles)
ROBBIE DK (Robbie Williams Jam)
DE GYLDNE DRENGE (De Gyldne Løver)
FINAL WHAM
LIKE A VIRGIN – Madonna Tribute
STRANGE DAYS (Doors Jam)
LILLE JOHN & RIVALERNE (J. Mogensen)
ABBATIZERS (Abba Jam)
JAMHALEN (Van Halen Tribute)
MIDT OM NATTEN (Kim Larsen efter Gasolin)
THE PINK FLOYD PROJECT
HUBERTUS – Kim Larsen / Gasolin Jam
ABSOLUTE WHITNEY (Whitney Huston)
THE ROBBIE WILLIAMS SHOW
SONGS OF MADONNA
FIND LIZZY (Thin Lizzy Jam)
SJAGGET (Kim Larsen / Gasolin)
MUGGE & LARSEN KOPIERNE (Kim Larsen)
ROBBIE JAM (RobbieWilliams)
ZEPPELIN EXPERIENCE
ME & MY SHADOW (Cliff/Shadows)
DEN RØDE TRÅD (Shu Bi Dua Jam)
WHIPLAZH (Metallica Jam)
DE RØDE TRÅD (Shu Bi Dua / Gasolin)
ZOO TV (U2-JAM)
BIRGERS VENNER (Bamses Venner Jam)
TICKET TO RIDE (Beatlesjam)
GASOLINE (Kvinde-Jam Band Gasolin)
SØREN BERLEVS GASSHOW (Gasolin)
LIVE WIRE (AC/DC Jam)
HIGH VOLTAGE (AC/DC Jam)
NUTIDENS UNGE (TV2 Jam)
ANDERS & LARSEN ALA CARTE (fra Bellami til Kjukken)
70´er og 80´er 90´er musik med f.eks.:
SWEETHEARTS – DISCOFIL – THE COMMITMENTS JAM – NIGHT FEVER (70´er) – HIT MED 80´erne (danske 80´er hits) – BLUES BROTHERS SOUVENIRS SHOW – PURE 80´TIES (engelsk-sprogede 80´er hits ) – COPENHAGEN BLUES BROTHERS – WINTER BY OYSTER (70´er disco) LE FREAK (70´erdisco) –
DELOREANS (Back To The 80´ties) – FEDE 80´ere (Danske hits fra 80´erne) –
THE BLUES BROTHERS EXPERIENCE – CHILLUMKLUD GROUP (70´er 80´er) – SOUNDTRACK JAM (de bedste hits fra de mest stemningsfyldte film) –
JAMSTAR SHOW (Robbie Williams, George Michael, Kim Larsen, Tina Turner, Thomas Helmig, Bryan Adams, Sanne Salomonsen og Steffen Brandt) – GIRL JAM (Hits af
kvindelige sangerinder fra 90´erne og til nu som f.eks. Anastasia, Beth Hart,
Britney Spears, Natalie Imbruglia, og mange flere) –
VOLT – Hits Med Højspænding (Hits med navne som Pink, Lady Gaga, Carpark North, U2, Medina, Backstreet Boys m-fl.)
DEM VI ELSKER (Alle de danske hits fra 80'erne) – POPSHOP80 (Danske hits fra 80´erne) – SO 90´S (musik fra 90´erne) – GREASE SHOW – MUSICAL SHOW
Mange er kendt fra radio og TV


Ring og få et tilbud på kopibands til netop dit arrangement. Priserne afhænger af arrangementets størrelse, hvor stort PA-anlæg der skal bruges, antal publikum samt hvor i landet det skal foregå, etc.
Tlf. 24250128
E-mail: info@elmerdahl.dk