Karaoke Orkestret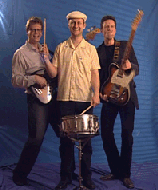 Det er sjovt og festligt at synge samen med kollegaerne til firmafesten. Nu er chancen der for at firmaer for en aften kan få deres eget backing band. Det giver sangerne det rigtige sug i maven, man kun får med et levende orkester i ryggen.
På bedste karaoke manér læses teksten på de opstillede skærme så både solister og publikum kan synge med. Der er p.t. 254 sange at vælge imellem, så der er noget for en hver smag.
Hvis solisterne bliver hæse kan orkesteret selv spille op til dans med toner fra tidens populære dansehits.
KARAOKE ORKESTERET består af særdeles rutinerede musikere fra det danske dansemusik miljø. De præsenterer aftenens solister og garanterer en festlig aften med masser af sang og dansemusik.
Karaoke Orkestret spiller typisk 3 x 45 min, der vil være en kombination af dansemusik og karaoke. Karaoke Orkestret kan også kombineres med en DJ, der spiller i pauserne samt runder aftenen af.
REPERTOIRELISTE
10CC
Dreadlock Holliday Dreadlock Holliday
I'm Not In Love
Abba
Bang A Boomerang
Chiquitita
Dance While The Music Still Goes On
Dancing Queen
Fernando
I do I do I do
Knowing Me Knowing You
Mamma Mia
Money, Money, Money
Super Trouper
Take a Chance on Me
Thank You For The Music
The Winner Takes It All
Waterloo
AC-DC
Highway to Hell
Alannah Myles
Black Velvet
Albert Hammond
It Never Rains In Southern California
Andrew Lloyd Webber
Don´t Cry For Me Argentina
Animals
The House of the Rising Sun
Anita Baker
Sweet Love
Aqua
Barbie Girl
Aretha Franklin
You Make Me Feel
Backstreet Boys
As long as you love me
Everybody
I Want It That Way
Bamses Venner
I en lille båd der gynger
Bangles
Eternal Flame
Barbara Streisand
Woman In Love
Barry Manilow
Mandy
Barry White
Can´t Get Enough Of Your Love
Beatles
Act Naturally
Back in the U.S.S.R.
Eight Days A Week
HELP!
Here Comes The Sun
Let It Be
OB-LA-DI OB-LA-DA
When I'm 64
With A Little Help From My Friends
Yesterday
Bee Gees
How deep is your love
If I Cant Have You
More than a woman
Night Fever
Staying A Live
Too Much Heaven
You should be dancing
Ben E King
Stand By Me
Bill Haley and The Comets
Rock Around the Clock
See You Later Alligator
Bill Medley og Jennifer Warnes
I've Had The Time Of My Life
Billy Joel
Allen Town
Just The Way You Are
Uptown Girl
Billy Ray Cyrus
Achy Breaky Heart
Bjarne Liller
Billet Mrk.
Bob Marley
Could You Be Loved
I Shot The Sheriff
No Woman No Cry
Boney M
By The Rivers Of Babylon
Daddy Cool
Rasputin
Sunny
Bonnie Raitt
I Can´t Make You Love Me
Bonnie Tyler
It's a Heartache
Boyzone
Baby can I hold you tonight
Love Me For a Reason
No Matter What
Britney Spears
Baby One More Time
I'm Born To Make You Happy
Bryan Adams
Everything I Do, I Do for Love
Summer Of 69
Carol King
You've Got a Friend
Carpenters
Close To You
Yesterday
Cat Stevens
Morning has Broken
Cher
Believe – Cher
If I Could Turn Back Time
Shoop shoop song
Chicago
Hard To Say I'm Sorry
If You Leave Me Now
Christina Aguilera
Beautiful
Chuck Berry
Johnny B. Goode
Cliff Richard
We Don´t Talk Anymore
Creedence Clearwater Revival
Bad Moon Rising
Have You Ever Seen The Rain
Lodi
Cyndi Lauper
Time After Time
Diana Ross & The Supremes
You Can't Hurry Love
Diane Warwick
That's What Friends Are For
Dire Straits
Sultans of Swing
Eagles
Hotel California
Earth Wind & Fire
Let's Groove
September
Elton John
Candle in the Wind
Daniel
Don´t Let The sun Go Down On Me
Don't Go Breaking My Heart
Nikita
Your Song
Elvis Presley
Allways On My Mind
Are You Lonesome Tonight
Can´t Help Falling In Love
Enrique Iglesias
Hero
Eric Clapton
Cocaine
My Fathers Eyes
Tears In Heaven
Wonderful Tonight
Eros Ramazzotti
Piu bella cosa
Evergreens
Fly Me To The Moon
Everly Brothers
Bye Bye Love
Fats Domino
Blueberry Hill
Fletwood Mac
Don't Stop
Frank Sinatra
I´ve Got You Under My Skin
My Way
New York, New York
Strangers In The Night
Frankie Vallie
Can´t Take My Eyes Of You
Gene Vincent
Be Bop A Lula
George Benson
Give Me The Night
In Your Eyes
George Michael
Faith
Glen Cambell
Rhinestone Cowboy
Gloria Gaynor
I Will Survive
Grease
You´r the One that I Want
Hermanns Hermits
No Milk Today
Huey Lewis & the News
Hip To Be Square
Power of Love
Irene Cara
What a Feeling
James Taylor
Fire and Rain
Shower The People
Jennifer Paige
Crush
Joe Cocker
With a Little Help From My Friends
John Denver
Take Me Home Country Roads
John Lennon
Imagine
Jealouse Guy
Woman
John Mogensen
Der er noget galt i Danmark
Så længe jeg lever
John Paul Young
Love Is In The Air
Katrina and the Waves
Walking On Sunshine
Kim Carnes
Bette Davis Eyes
Kim Larsen
Fru Sauterne
Haveje
Kvinde Min
Midt om natten
Papirsklip
Kool and the Gang
Celebration
Joanna
Ladies Night
Kylie Minogue
Can´t Get You Out Of My Head
It´s In Your Eyes
Lars Lilholt
Kald det kærlighed
Los Ketchup
Asereje
Lionel Richie
All Night Long
Endless Love
Say You Say Me
Liza Stansfield
All Around The World
Louis Armstrong
What a Wonderful World
Mamas and Papas
California Dreaming
Dream a Little Dream Of Me
Maria Carry
Hero
Melanie C
Northern Star
Michael Jackson
Bad
Billie Jean
Don't Stop 'Till You Get Enough
Thriller
Michael Learns To Rock
The Actor
Michael MacDonald
Sweet Freedom
Mike Oldfield
Moonlight Shadow
Mr Big
To Be With You
Niel Sedaka
Oh Carol
Olivia Newton-John
Physical
Xanadu
Ottis Redding
(Sittin' on the) Dock of the Bay
Otto Brandenburg
Alle sømænd er glade for piger
Patrick Hernandez
Born To Be Alive
Patsy Cline
Crazy
Paul Simon
You Can Call Me Al
Peggy Lee
Fever
Percy Sledge
When a Man Loves a Woman
Peter Gabriel
Sledgehammer
Phil Collins
Against All Odds (Take a Look At Me Now)
Another Day In Paradise
In The Air Tonight
Police
Every Breath You Take
Procul Harum
A Whiter Shade Of Pale
Queen
Another One Bites The Dust
We Are The Champions
We Will Rock You
Ray Charles
I Can't Stop Loving You
Richard Marx
Hold On To The Nights
Right Here Waiting
Ringo Starr
You´re Sixteen
Robbie Williams
Come Undone
Feel
Millennium
She's The One
Rod Stewart
Do You Think I'm Sexy
Sailing
Rolling Stones
Satisfaction
Rolls Royce
Car Wash
Ronan Keating
If Tomorrow Never Comes
When You Say Nothing At All
Roxette
It Must Have Been Love
Roy Orbinson
Only The Lonely
Pretty Woman
Sam Cooke
What a Wonderful World it Would Be
Shakin Stevens
You Drive Me Crazy
Shania Twain
That Don't Impress Me Much
You're Still The One
Sheena Easton
For Your Eyes Only
Shubidua
Danmark
Hvalborg
Sexshikane
Står på en alpetop
Simon & Garfunkel
Mrs Robinson
Sound Of Silence
Smokey
Living Next Door To Alice
Status Quo
Rockin' All Over The World
Steppenwolf
Born To Be Wild
Steve Miller Band
Abracada
Rock'n Me
Stevie Wonder
For Once In My Life
Isn't she lovely
Superstition
You Are The Sunshine Of My Life
Survivor
Eye Of The Tiger
Svenne & Lotta
Take Good Care Of My Baby
Sweet
Ballroom Blitz
Wig Wam Bam
Take That
Back For Good
Temptations
My Girl
The Real Thing
You To Me Are Everything
Tina Turner
Private Dancer
The Best
We Don't Need Another Hero
What's Love Got To Do With It
Tom Jones
Green Green Grass Of Home
It's Not Unusual
Kiss
Sex Bomb
Tom Petty & the Heartbreakers
Free Fallin´
I Won't Back Down
Toto
Georgy Porgy
Africa
Hold The Line
Rosanna
Trine Dyrholm
Danse i måneskin
Van Morrison
Browne Eyed Girl
Village People
In The Navy
Y-M-C-A
Westlife
If I Let You Go
Swear it again
Wet Wet Wet
Love Is All Around
Wham
Last Xmas
Whitney Houston
Didn't We Almost Have It All
Greatest Love of All
I Every Woman
I Will Always Love You
Willie Nielson
On The Road Again
Wilson Pickett
Mustang Sally